About
PepsiCo is among the top companies in the world in the Food and Beverages category.
What was the situation before Qoruz?
Over the past few years PepsiCo has been facing heat due to certain factors like changing consumer taste preferences, competition from brands, economic and technological factors.
The Problem
It was quite the task to manually identify the best Tier 1 & 2 influencers, analyse their past data and predict the cost and outcome of their influencer marketing strategy.
PepsiCo did not have customized strategies for macro and micro influencers. The mismanagement of the influencer's reactions and the lack of a fail-proof influencer strategy catering to markets resulted in misallocation of budgets and low ROI.
The Solution: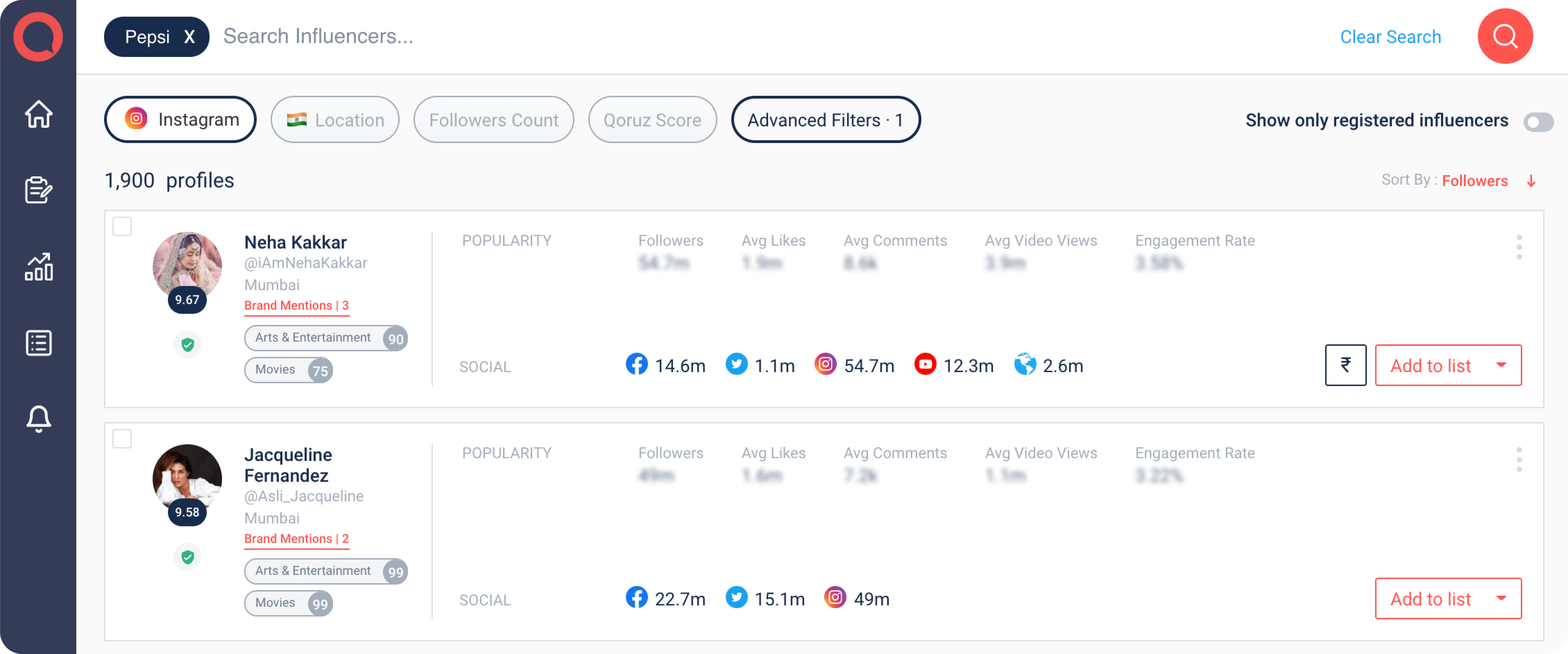 Qoruz's AI-powered influencer marketing platform was implemented to help PepsiCo build a strong framework of Influencer identification and qualification. This helped PepsiCo recognise the right influencers based on their goals. Ease of data analysis was at the heart of this new system.
Features of Qoruz that helped PepsiCo:
Campaign Return On Investment
Qoruz's search wizard offered a plethora of relevant search parameters for PepsiCo which made it easier for them to align with the right influencers based on their objectives. Through this influencer evaluation tool, the influencers were evaluated based on engagement, audience demographics, past brand associations and budget.
Qoruz Score
Qoruz score is another feature that came in handy for PepsiCo. It is a percentile based scoring ranging from 1 to 10 and the score is distributed based on the influencers audience engagement at the various social media platforms. This score helped PepsiCo quantify the level of influence an influencer has on different platforms considering multiple parameters. Higher the score, higher the influence!
Detailed Audience Analytics
Qoruz helped in analyzing the previous content created by the influencers to make sure that they are the right influencers for PepsiCo.
Qoruz also analyzed the live data for PepsiCo, which made their decision making process easier and quicker.
Qoruz's detailed Influencer data analytics across platforms, helps us build a better case & recognize the type of influencers to engage based on the Brands' objectives.

Shailendra KurapatSocial Listening & Insights @ Pep-Pulse.
How we can help you!
Real-time Campaign monitoring
Qoruz can help you analyze live data for quicker decision-making. Keep track of your campaign's progress both in terms of published content, performance metrics, and exhausted budget.
Audience Analytics
With Qoruz you can learn more about your audience, gather valuable data on what content works with your audience and learn how to engage them.
Track content performance
Qoruz helps identify the performance of individual influencers and evaluate the quality of the content posted. You can optimize the content strategy by seeing what content works for your audience.