About
Edelman is a global communication firm that partners with businesses and organizations to evolve, promote and protect their brands and reputations.
What was the situation before Qoruz?
Edelman strategizes on accounts of well-known brands like Lakmé, Ponds, and some of the largest FMCG companies in the country. Being in the center of the hustle, the Brand strategy team was executing multiple influencer campaigns parallelly. A very tiring process with the majority of the time getting wasted in discovering and identifying influencers in the relevant niche.
The Challenge
Edelman did not have a specific recruitment matrix to find influencers. They quickly realized the need for a framework with the necessary parameters to be put in place. The Strategy and Planning teams of the agency leveraged, to evaluate these influencers and their relevance based.
If not taken seriously, could be risking an ineffective contribution by Influencers in terms of reaching out to the right target audience. Edelman quickly realized they had insufficient data, and it became apparent that they would not be able to scale to meet their brand goals with the current system in place.
What was the Solution Applied?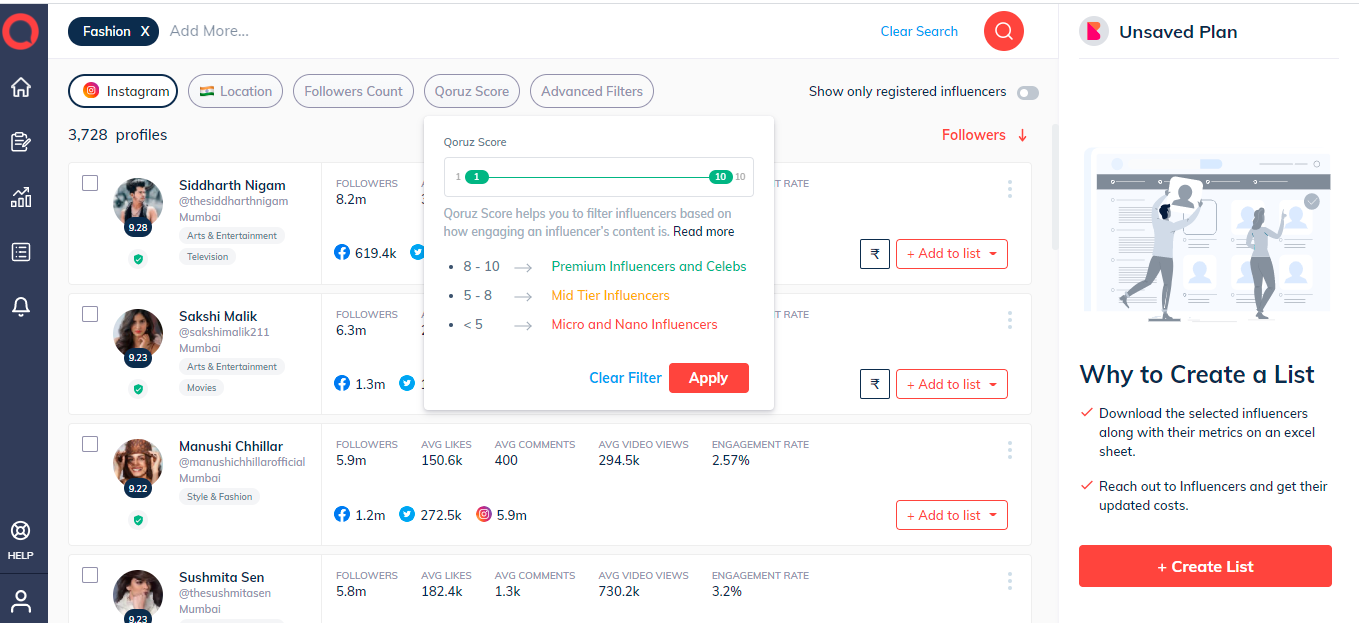 A logical Recruitment framework was implemented with Edelman's team for all their Influencer Planning. Qoruz influencer marketing platform provided a comparison table featuring approximate performance metrics and costs of the influencers for the campaigns. The deep insights of the Influencers tracked were the basis of the framework applied. They created custom lists based on cost, category and criteria.
This helped them save time in their campaigns by shortlisting their favourite influencers.
The Qoruz score is another feature that came in handy for Edelman. It is a percentile-based scoring ranging from 1 to 10 and the score is distributed based on the influencer's audience engagement at the various social media platforms. This score helped Edelman quantify the level of influence an influencer has on different platforms considering multiple parameters. Higher the score, the higher the influence!
We also helped in analyzing the previous content created by the influencers to make sure that they are the right influencers for Edelman. Qoruz helped Identify and track individual influencer performance, evaluate a post's content quality, optimize the content strategy by seeing what content worked for their audience.
Qoruz's detailed Influencer stats across platforms, helps us build a better case & recognize the type of influencers to engage based on our Client objectives.

Yashodhara Roy,Account Manager, Edelman
Use Qoruz to increase your
Campaign Return On Investment
Qoruz provides a comparison table featuring approximate performance metrics and costs of the influencer for your campaign. You can optimize your ROIs and compare and choose influencers who fit your campaign criteria based on goals.
Audience Engagement Ratio
View audience engagement metrics such as views, comments, likes, and more alone with the daily engagement graph. Go deeper into audience insights with data on location, age group and gender and more. You can learn more about your audience, gather valuable data on what content works with your audience, explore new audiences and learn how to engage them.
Marketing Team Efficiency
Identify individual influencer performance, evaluate a post's content quality, optimize content strategy by seeing what content works for your audience and track the ROI from influencers.