About
Country Delight is one of the top D2C brands in India, providing natural, fresh, and unadulterated milk directly to the doorstep of the consumer. As they were doing many influencer campaigns, they discovered the need for a solution that enables streamlined influencer reach outs and transparency in finding the cost of influencers.
The Challenge
Khelplay Rummy wanted to run campaigns with influencers in the gaming category. They tried other influencer tools and failed to find relevant influencers across the categories that they were targeting.
Time-Consuming Influencer Reach Out
Country Delight was working with niche influencers. This required an in-depth understanding of influencer profiles to refine the customer targeting and get insights into identifying the right influencers for respective campaigns to predict the cost and outcome of their influencer marketing strategy.
Having such a model meant scaling up influencer campaigns and having an Influencer Marketing Platform in place to help the team streamline campaigns.
Streamlined Execution
Post identification, to keep a track of the activities of each influencer on a per post level to analyze the output meant manually having to track and identify this data.
Hence, the team at Country Delight set out to find a platform that would help them seamlessly plan and execute end-to-end influencer campaigns.
Qoruz x Country Delight: How the match works!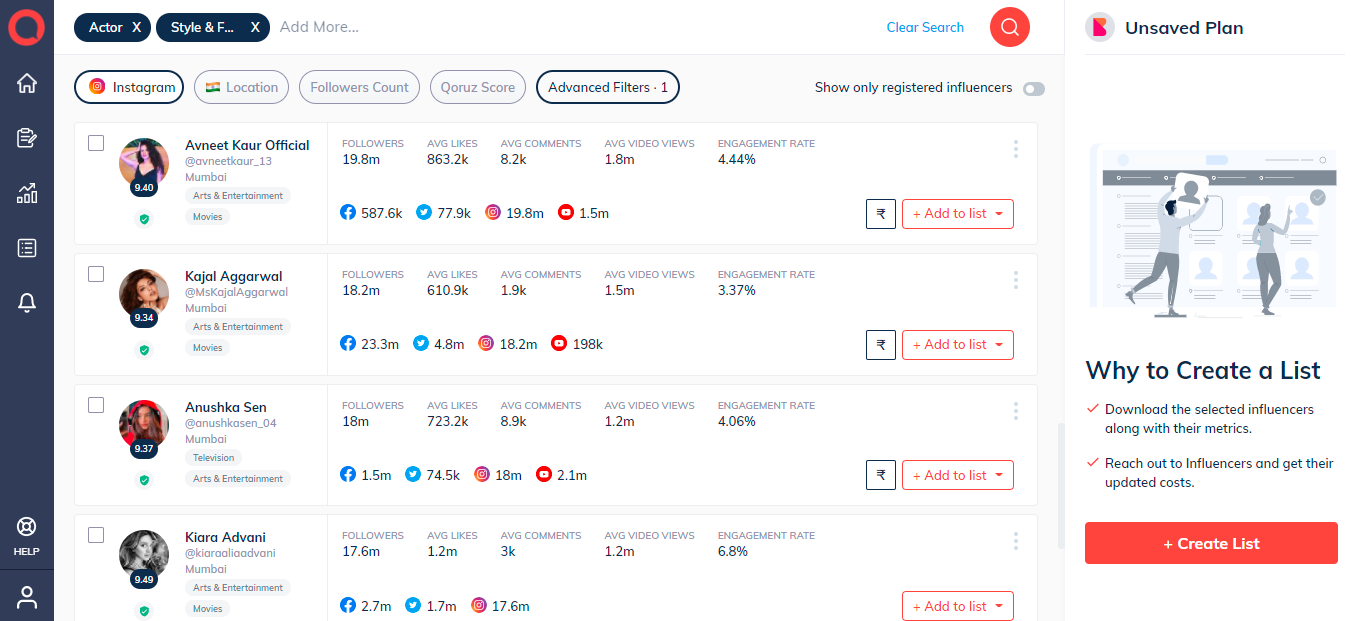 With Qoruz, Country Delight was able to cross out three goals with one influencer marketing platform: Influencer Insights, seamless campaign execution, and determine ROI of Campaigns.
Influencer Discovery
Majorly, Qoruz is able to Identify individual influencer performance and evaluate a post's content quality. Qoruz also provides a comparison table featuring approximate performance metrics and costs of the influencers for their influencer marketing campaigns. This helped Country Delight find the right influencers and plan their campaigns better.
Tracking campaign Reporting
Qoruz's real-time reporting feature helped Country Delight plan and track their campaign's progress, and optimize it on the go all from one place.
Campaign ROI
With Qoruz, Country delight could measure, and adapt strategies with accurate, real-time influencer tracking.
'Qoruz's detailed Influencer stats across platforms, helps us identify the 'right' influencers. Their campaign analytics dashboard helps us capture insightful data and optimize on the go. Sounder from the team is always available on calls to help with any support related to the dashboard.

Kartik Bhasin,Marketing Manager, Country Delight.
How we can help you!
Real-time Campaign monitoring
Qoruz can help you analyze live data for quicker decision-making. Keep track of your campaign's progress both in terms of published content, performance metrics, and exhausted budget.
Audience Analytics
With Qoruz you can learn more about your audience, gather valuable data on what content works with your audience and learn how to engage them.
Track content performance
Qoruz helps identify the performance of individual influencers and evaluate the quality of the content posted. You can optimize the content strategy by seeing what content works for your audience.