About
MSL is one of India's Top Public Relations firms well-known for their integrated communication offerings for brands, being a part of the larger network Publicis Groupe.
What was the situation before Qoruz?
MSL planned and executed multiple influencer campaigns simultaneously by manually discovering and reaching out to influencers as they understood that influencers increase the legitimacy and act as trustworthy relays to the consumers.
The Challenge
Time-Consuming Influencer Reach Out
MSL required niche influencers on a large scale. This required an in-depth understanding to refine customer targeting and get insights into identifying the right influencers. Post identification keeping a track of the activities of each influencer on a per post level was a time consuming process.
No streamlined Execution
Around festive seasons like Diwali, MSL had to conduct parallel campaigns with multiple influencers. The time consumed in the process of searching for the right influencers and executing the campaign was starting to get tedious.
Lack of Genuine Analytics to Discover/Qualify Influencers
The campaign execution of MSL was done at a large scale, keeping a rack of the genuine analytics and quality of the content posted by the influencers was proving inefficient.
What was the Solution Applied?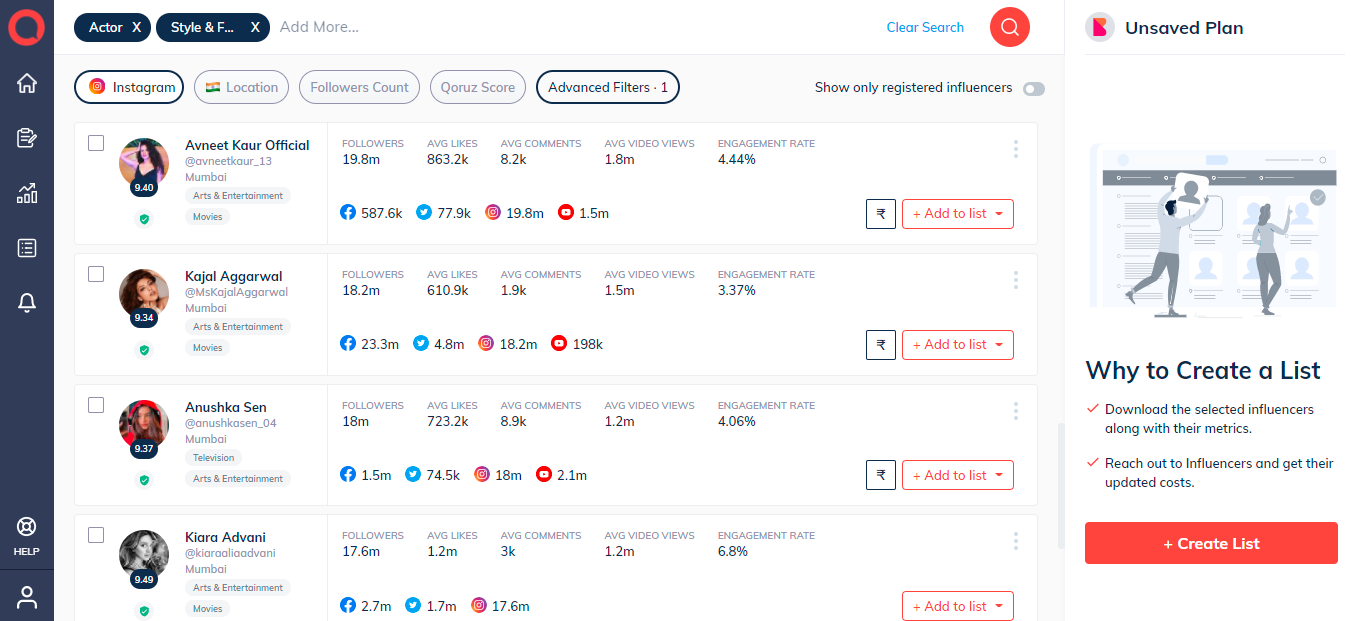 Using Qoruz's influencer marketing platform a streamlined framework was implemented for all of MSL's influencer management & execution. The process of influencer marketing was automated and backed by unified performance-oriented analytics.
Qualification Parameters
MSL found relevant influencers for their campaign by using Qoruz's Search feature.
Finding influencers based on relevant parameters like performance metrics, cost, platform, hashtag and content category became much easier for MSL. Qoruz's AI-powered algorithm helped MSL periodically track, update, and verify influencer data across social platforms.
Streamlined Reach out
MSL increased their efficiency by using the Custom lists feature of Qoruz that helped save time and reach out to the right influencers. They could create lists based on cost, category, or any criteria based on their requirements. Qoruz helped play an important role in saving time in future campaigns by helping them shortlist and reach out to relevant influencers.
From identifying the 'right' influencer, to managing them, to measuring impact, Qoruz has made my team's life much more comfortable.

Aruna Handique,Planning Director, MSL Group.
Use Qoruz to increase your
Campaign Return On Investment
Qoruz provides a comparison table featuring approximate performance metrics and costs of the influencer for your campaign. You can optimize your ROIs and compare and choose influencers who fit your campaign criteria based on goals.
Audience Engagement Ratio
View audience engagement metrics such as views, comments, likes, and more alone with the daily engagement graph. Go deeper into audience insights with data on location, age group and gender and more. You can learn more about your audience, gather valuable data on what content works with your audience, explore new audiences and learn how to engage them.
Marketing Team Efficiency
Identify individual influencer performance, evaluate a post's content quality, optimize content strategy by seeing what content works for your audience and track the ROI from influencers.